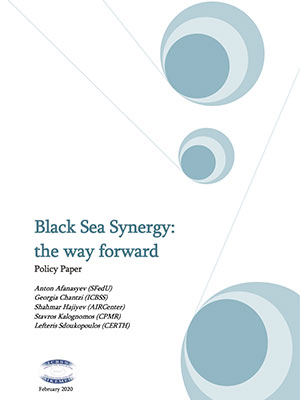 Title:
Black Sea Synergy: the way forward
Category:
Other Publications
Release Date:
February 2020
Authors:
Anton Afanasyev (SFedU), Georgia Chantzi (ICBSS), Shahmar Hajiyev (AIRCentrer), Stavros Kalognomos (CPMR), Lefteris Sdoukopoulos (CERTH)
Language:
English
Publisher:
ICBSS
Abstract

Within the framework of the EU Black Sea Synergy Initiative, the International Centre for Black Sea Studies (ICBSS) organised the Regional Stakeholders Conference Black Sea Synergy: the way forward (Athens, 7 November 2019) with the aim to stimulate the discussion on the future of the Black Sea Synergy in the short and medium term.

Particular emphasis was placed on four cooperation fields that have known less progress over the years, namely tourism and culture, education, transport, and energy. The present policy paper includes the key results and recommendations concerning the abovementioned cooperation priorities, as discussed during the Conference.
PDF available to download