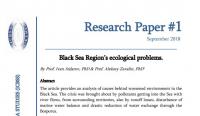 Title:
Research Paper #1: Black Sea Region's ecological problems
Category:
Research Papers
Release Date:
September 2018
Authors:
Ivan Aidarov, Aleksey Zavalin
Language:
English
Publisher:
ICBSS
Abstract

The article provides an analysis of causes behind worsened environment in the Black Sea. The crisis was brought about by pollutants getting into the Sea with river flows, from surrounding territories, also by runoff losses, disturbance of marine water balance and drastic reduction of water exchange through the Bosporus.

* Prof. Ivan Aidarov and Prof. Aleksey Zavalin are experts on agriculture, hydraulic engineering and land reclamation at the Russian Academy of Sciences. 
PDF available to download