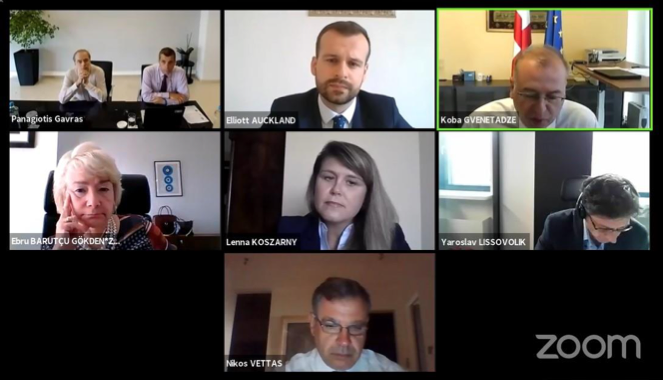 ICBSS – BSTDB Webinar
"Post-Pandemic Recovery of Black Sea Economies"
(17-7-2020)
The International Centre for Black Sea Studies (ICBSS) and the Black Sea Trade and Development Bank (BSTDB), jointly organized a Webinar on the "Post-Pandemic Recovery of Black Sea Economies" on Friday 17 July 2020.
Under the moderation of Mr. Panayiotis GAVRAS, Head of Policy and Strategy, BSTDB, a panel of prominent international experts, Mr. Elliott AUCKLAND, Chief Economist, International Investment Bank, Amb. Ebru BARUTÇU GÖKDENİZLER, First Deputy Secretary General, BSEC PERMIS, Ms. Lenna KOSZARNY, Founding Partner and Chief Executive Officer, Horizon Capital, Ukraine, Mr. Yaroslav LISSOVOLIK, Programme Director at the Valdai Discussion Club, Member of the Government Expert Council, Russian Federation and Mr. Nikos VETTAS, Director General, Foundation for Economic & Industrial Research, Greece, exchanged views about the recent developments and challenges for the re-start of the economies and the re-establishment of trade, investment and financing links in the Black Sea Region.
From their perspective, the keynote speakers, Mr. Dmitry PANKIN, BSTDB President, and Mr. Koba GVENETADZE, Governor of the National Bank of Georgia, noted the impact of the latest developments on the banking and financial sectors and underlined the importance of continuous cooperation between countries and institutions of the Black Sea region.
The highly attended webinar was organised in light of the recent BSTDB paper "The Pandemic Crisis and the Black Sea Region - Impact, Policy Responses and the Role of Multilateral Development Banks" which provides a regional analysis and looks at how MDBs have responded and how they may be enabled to respond further.
This was the third of a series of webinars organised by the ICBSS in the context of the new era of online meetings on key issues targeting the wider Black Sea region.
You may visit the ICBSS channel on YouTube to watch the full Webinar here.