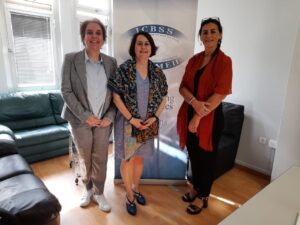 ICBSS - BSEC PERMIS -Union for the Mediterranean Working Meeting
On Tuesday 4 October 2022, the ICBSS hosted a working meeting of Ms. Alessandra SENSI, Environment, Green and Blue Economy, Head of Sector at the Union for the Mediterranean with Ms. Rositsa STOEVA, BSEC PERMIS Executive Manager in charge of Project Management and Cooperation with International and Regional Organizations and Ms. Georgia CHANTZI, ICBSS Research and Policy Development Manager, at ICBSS premises in Athens.
The exchange focused on exploring opportunities for further cooperation between the two sea-basins on projects and other joint activities of common interest.
From their side, BSEC PERMIS and ICBSS presented good practices from their projects on marine litter, small-scale boating and cultural tourism.