Launch of the Turkish BSEC Chairmanship-in-Office
The Turkish BSEC Chairmanship-in-Office (July - December 2023) was officially kick-started with the Coordination Meeting of the BSEC Committee of Senior Officials, the BSEC Related Bodies and the BSEC PERMIS that was held online, on 12 July 2023.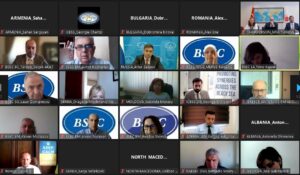 The priorities of the Turkish BSEC Chairmanship-in-Office will focus on ensuring the full resumption of collaboration among the BSEC Member States, despite present challenges, as well as to explore further avenues of cooperation to enhance regional competitiveness and boost the extroversion of the BSEC region.
Priorities are as follows:
updating the BSEC Economic Agenda and approving main cooperation documents;
activating the Project Development Fund (PDF);
reactivating the BSEC Business Council;
resuming the works of the BSEC Coordination Centre for the Exchange of Statistical Data and Economic Information;
strengthening the external relations of BSEC and BSEC PERMIS;
strengthening the Troika mechanism;
holding in-person meetings.
Press-release HERE
Priorities of the Turkish BSEC CiO HERE 
***