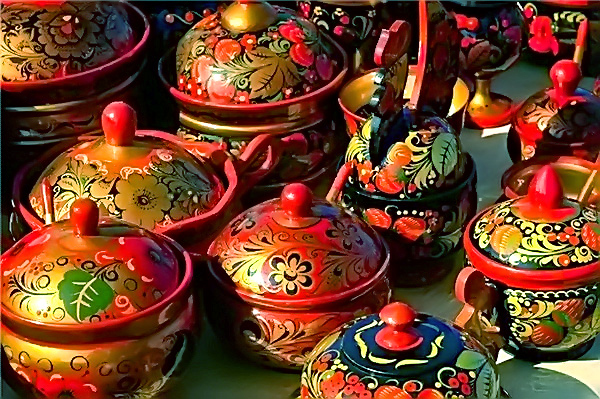 4th BSEC Month of Culture
1-30 November 2020
Russia
Khokhloma painting (хохлома) is a well known style of Russian folk art, thought to date back to the 17th century. It derives its name from the Kovernino district of the Nizhni Novgorod province in Central Russia, which grew to become a trading post where local craftsmen brought their brightly decorated tableware to sell.
The craft is so distinct one can hardly confuse it with any other pattern – a rich floral motif mixing scarlet, black and festive gold. The three colors had a profound symbolism for decorating the sacred church vessels and tableware used in the monasteries, as well as in icon ornaments. Red represented the beauty; gold symbolized the spiritual heavenly light, while black signified the cleansing of the human soul. Today new colors such as brown, green and yellow can be introduced, making the ornament more lavish. The most identifiable of these ornaments are the matryoshka dolls.
Unique works of Khokhloma art can be seen in the Golden Khokhloma Factory, founded in 1972, in Semyonov. Among them there is a huge Khokhloma spoon 2 meters and 67 cm large and a bowl one and a half meter large.
Sources:
https://russiapedia.rt.com/of-russian-origin/khokhloma/
http://www.artrusse.ca/khokhloma_en.htm
https://tourismnizhnynovgorod.wordpress.com/attractions/cultural-attractions/semyonov-golden-khokhloma-factory/
#ICBSS #MoC2020 #CultureBSEC #Russia #Art